Looking for one of our mental health workshops? Click here or the Wellness tab above!
Note: All services are covered through OHIP.
HOW CAN OUR MENTAL HEALTH TEAM THERAPIST HELP YOU?
Our team of MH therapists can provide assessments and psychotherapy for adults experiencing any of the following:
Depression
Anxiety
Stress
Relationship struggles
Grief: Bereavement/loss
Trauma
Self esteem
Distress tolerance
Self compassion
Struggles with Sleep
Mindfulness
Medication
We provide individual therapy and group therapy where you can learn how to cope and manage your symptoms or day to day stressors.
COGNITIVE BEHAVIOURAL THERAPY (CBT)
Our MH team of therapists are trained in CBT. CBT is a structured, time-limited, and goal-oriented form of evidence-based psychotherapy. CBT is offered for the treatment of depression and a wide variety of anxiety concerns, including post-traumatic stress. It can assist people in developing skills and strategies for becoming and staying mentally healthy. CBT helps people to examine how they make sense of what is happening around them and how these perceptions affect the way they feel and behave.
Our MH Program is open to patients of Queen Square Family Health Team, and a physician referral is required.
COMMUNITY MENTAL HEALTH PROGRAM
Our Community Mental Health Team offers group psychotherapy for adults with anxiety and depression. We also offer educational workshops on various topics to help with overall health and wellness.
Our Anxiety & Depression CBT Group runs for 8 sessions, and you meet weekly for two hours. The group sessions will focus on psychoeducation regarding anxiety and depression and explore coping strategies for managing symptoms, and/or practice of skills (i.e. calming techniques/deep breathing; behavioural activation and understanding the thinking-feeling connection).
Our CBT group for anxiety and depression group is open to anyone in the community.  A physician referral is required.
OSP – ONTARIO STRUCTURED PSYCHOTHERAPY PROGRAM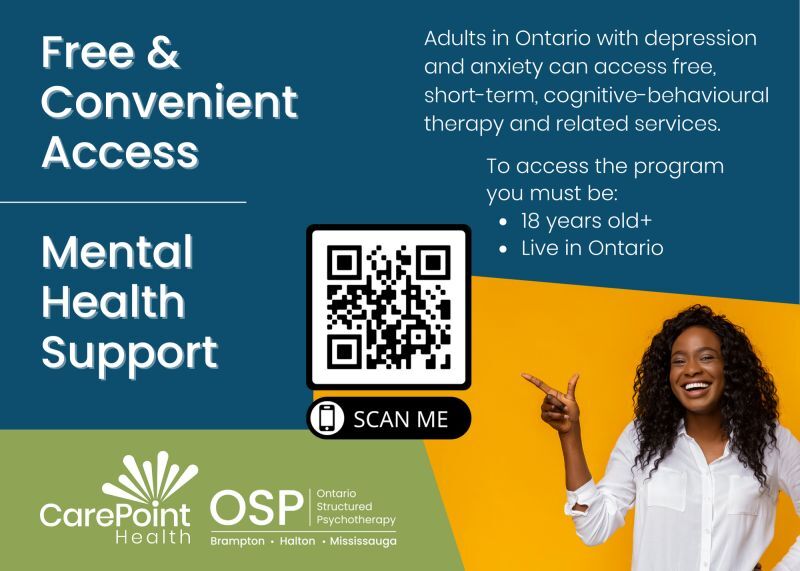 Queen Square Family Health Team is a service delivery site that offers psychotherapy for adults through the provincially funded Ontario Structured Psychotherapy Program.
All services in OSP are informed by cognitive-behavioural therapy approaches and are matched to the level of care that best meets a person's needs. Cognitive-behavioural approaches focus on practical strategies and skills to manage problems that happen in everyday life. These approaches can help you change the way you feel, think and act.
OSP-BHM is currently open to self-referrals and referrals from healthcare providers.
Website link: Ontario Structured Psychotherapy Program (OSP) – CarePoint Health Mississauga
DBT Program with CMHA Peel
Dialectical Behavioural Therapy Program:
In partnership with Canadian Mental Health Association (CMHA) – Peel/Dufferin Region
Consists of:

DBT Skills Training Group
Individual DBT psychotherapy
Skills Coaching
DBT Consultation Team
If you are interested in DBT, please call their main line at 905-451-2123 or 1-877-451-2123 where the DBT Team will review your referral, complete subsequent assessments, and determine if this intensive treatment is right for you.
Service providers can send a completed registration form on their website or can download a PDF from that page and email it to

[email protected]

.
Eligibility Criteria:
18 years and older living in Brampton, Bramalea, North Etobicoke, West Woodbridge or Malton
Experiencing difficulties regulating emotions
Impulsive behaviours
Recurring suicidal thoughts or behaviours
Frequent mood swings
High interpersonal conflict
Difficulty with relationships including with professionals
24/7 Crises Support Peel: If you are experiencing a crisis and feel you need immediate support, please call the CMHA Crisis Line at (905) 278-9036 or 1 (888) 811-2222 if you are in the Caledon area.  If you are experiencing an emergency, please call 911 or go to your nearest emergency department or local hospital.
ANXIETY & DEPRESSION GROUPS
Our 8-week Depression & Anxiety Group is for people who would like to gain skills with mood management. We use a Cognitive Behavioural Therapy (CBT) model for understanding anxiety and depression. Over the course of 8 weeks, participants will learn about depression and anxiety, as well as skills and strategies to cope with symptoms. The program is facilitated by two clinical social workers/psychotherapists
Sessions will be offered in English.
If you completed our Anxiety and Depression group, you're welcome to join our alumni sessions! Our Alumni Group is a space for participants who completed the program to re-connect and share how they've been doing post- group. These sessions are held once a month and are online through Zoom. Please register below if you would like to attend a session.